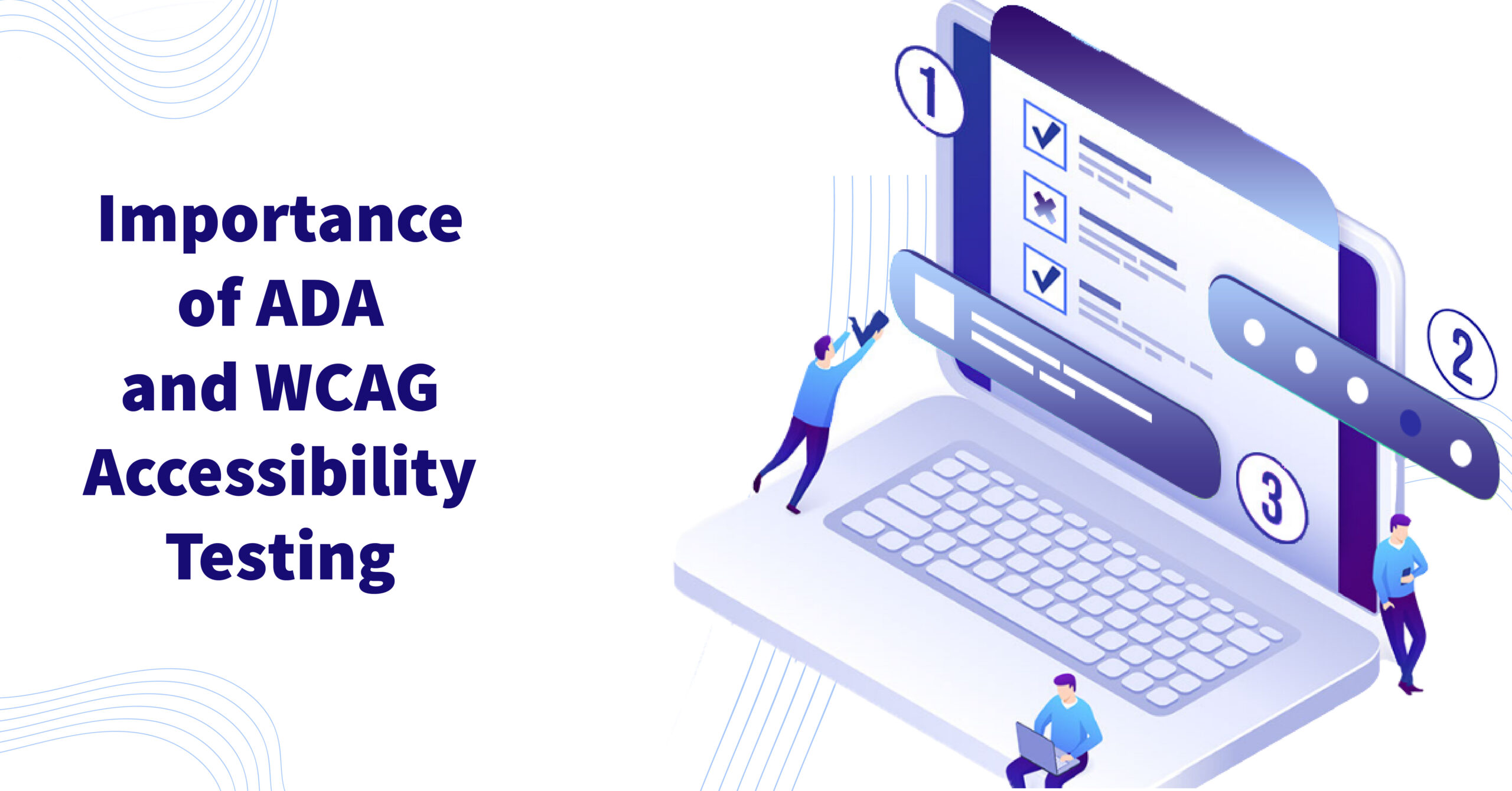 Overview
While technology is transforming our lives, it also needs to transform our access to it, particularly in the digital era, which brings innovation and new possibilities to everyone who uses it. It takes considerable work to develop technology accessible to 'everyone.' For instance, when a product is introduced to the market, it should be accessible to all users, including users with disabilities.
If technology empowers people with disabilities or special needs, it has the potential to inspire them in ways they would never imagine. Accessibility testing is required here.
What is ADA and WCAG Compliance
As a website owner, you are normally concerned with the keywords, anchor text, and pictures that appear in your content. However, what if your audience cannot read the text because it is too small or cannot see the content because the colors are inconsistent. This suggests that your website is not accessible to everyone.
WCAG 2.1 (Web Content Accessibility Guidelines) and ADA (Americans with Disabilities Act) compliance are all about ensuring accessibility best practices and solutions imply for all audiences. 
WCAG 2.1 helps in making web content more accessible to people having low vision, hearing loss, blindness, deafness, learning disabilities, cognitive limitations, speech disabilities, photosensitivity, limited movement, or any combination of these conditions.
ADA-compliant websites must enable users to navigate the website and its features, including the ability to use main navigation and any available tools on the website. The content must be understandable, including the website's text, images, video, and tools.
Businesses are already facing hefty penalties and expensive lawsuits that are not compliant with accessibility standards.
Improved usability of the website
By making your website ADA-compliant, you ensure differently-abled users are also able to use your website like any other user. It implies that regardless of their disability status, all visitors will enjoy visiting your website due to its ease of access and navigation. As a result, you can deliver greater customer satisfaction to differently-abled users.
Improved search engine optimization
Increased search engine ranks are another possible advantage of voluntary ADA compliance. An ADA expert will audit your migration to identify and resolve usability issues. Among these problems is the difficulty for search engine spiders to index your site readily. When these problems are addressed, your site will get a high ranking in search engines.
A better image on social media
You must act by a moral belief concerned with the needs and difficulties of disabled people. Consider the kind of care you would expect to get if you have hearing and visual disabilities.
We all want to quickly and simply obtain information online. Thus, conscientious compliance helps your business build its brand and social/moral capital in society as a morally responsible and responsive corporation.
Incentives for tax
According to the IRS, any initiatives to enhance accessibility and navigation of websites qualify for a 50% tax credit on expenditures over $250,000.
How Do You Ensure Your Website Meets ADA and WCAG compliance?
Always better to opt for a combination of automated and manual accessibility testing that can ensure that your website conforms with ADA and WCAG accessibility compliance. You should leverage an independent accessibility testing vendor who can do an unbiased accessibility audit of your website. Look for a vendor who uses both manual and automated accessibility testing methods to give you the best results. For instance, a tool can be used to test the text color contrast ratio on top of the background and manual testing for reviewing the design elements of the website.
In Summary
We firmly believe that businesses must make essential applications and mobile apps readily available to all users, including those with disabilities. Multiple government bodies across the world have implemented accessibility laws to make IT products more accessible to differently-abled people. According to the Web Accessibility Testing Initiative's website, complying with WCAG 2.1 standards is business-critical for making all websites readily accessible and useful.