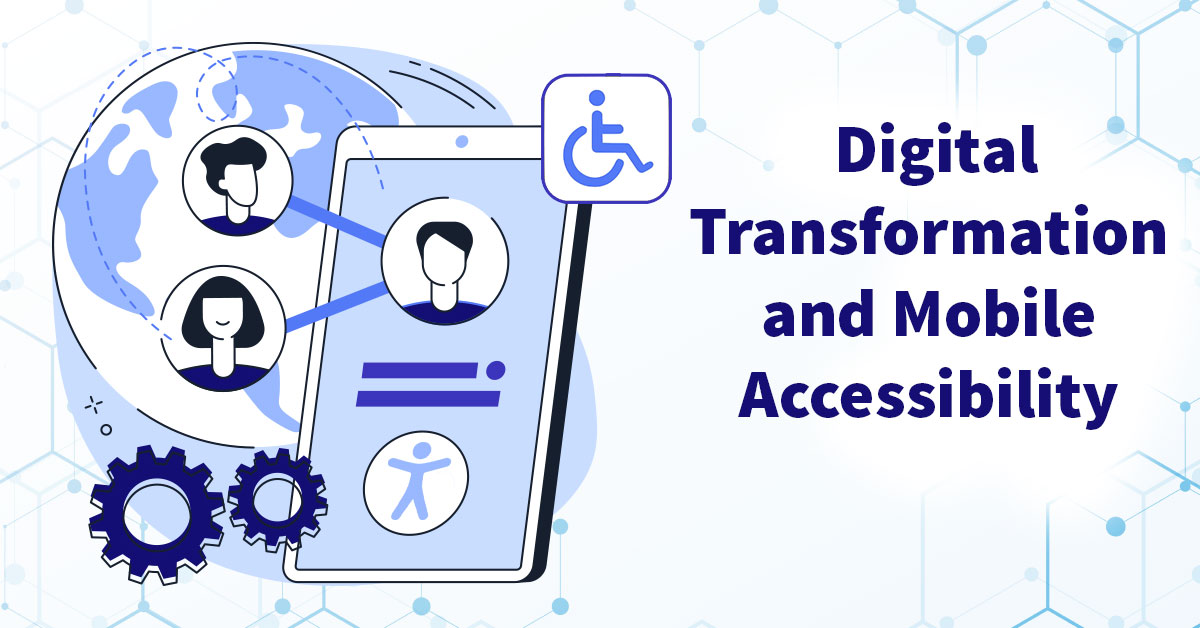 In our increasingly digital world, we can simplify our everyday routines, conduct online communication, learn, and engage in employment – all at a faster, easier, and more enjoyable pace. To fully benefit from this digital transition, we must ensure that everything digital is available to everyone.
Testing and remediation of websites on mobile devices
Mobile accessibility has become a global norm amid businesses to ensure applications are easily accessible to people from all walks of life. WCAG 2.1 released the most recent version of the guidelines in June 2018 and included several new features for mobile accessibility.
Newly added mobile-related success criteria in WCAG 2.1 include the below:
SC 1.3.4 (Orientation): Unless necessary, the content cannot be restricted to specific device orientation, such as landscape or portrait.
SC 2.5.4 (Motion Actuation): Features activated by user motion must also be accessible through a user interface unless they are necessary. Additionally, disabled motion-activated features prevent accidental activation.
Testing of Android/iOS apps
You should perform WCAG 2.1 level AA accessibility testing to ensure that the website or application is accessible. Verifying that websites and apps match the success criteria can be a fantastic approach to improving digital services for everybody.
Test coverage is an important consideration in accessibility testing, as it is in all other types of quality assurance testing. Testing mobile websites and apps should be considered on a variety of devices. It is recommended to leverage at least four or five devices to test a website or application's accessibility:
Latest iOS version on an iPhone
Android latest version
iPads running the latest iOS
Android tablet with the latest or second latest OS
Some accessibility tests can be automated, however, manual testing is ideal for a wide range of accessibility tests. With real devices, the tester can better understand a website or application's accessibility.
Accessibility test engineers can also use mobile operating systems' accessibility tools and features to broaden accessibility testing. In Europe and the United States, Apple's iOS and Google's Android are the most popular operating systems.
Mobile operating systems provide a variety of ways to make the device more accessible. Some of the useful features include a screen reader, speech recognition, voice search, screen magnifiers, and brightness/color settings among others.
Android Accessibility Feature
When conducting accessibility testing, it is crucial to remember that you don't need to use every possible tool or feature. A high number of features or tools may overlap, limiting the scope of testing.
Make use of dynamic character zoom or scaling features, TalkBack, Switch Access, and other input mechanisms such as a physical or Braille keyboard when evaluating websites or native Android applications.
TalkBack
TalkBack is Android's native screen reader. You can access your Android handset without looking at the screen with TalkBack. With this, those who are visually impaired can more easily use applications and websites.
iOS Accessibility Features
iOS offers multiple accessibility features to support physical, vision, motor, hearing, and learning capabilities. These accessibility features can be accessed directly from the device.
VoiceOver
Built-in screen reader VoiceOver reads aloud what you see on your screen. It speaks all visible elements on the page for visually impaired users.
Design review of mobile apps and recommendations
Making a mobile app accessible offers a wonderful experience for all users. An accessible app also gives access to a wide range of potential financial, moral and legal advantages. Tools for incorporating accessibility solutions are available on both Android and iOS platforms.
In Summary
Mobile accessibility has become an important component of every business that aims to become successful through digital channels. We have extensive and robust experience in accessibility testing. Our accessibility experts offer end-to-end accessibility testing and remediation solutions to help launch accessible apps reliably and cost-efficiently.