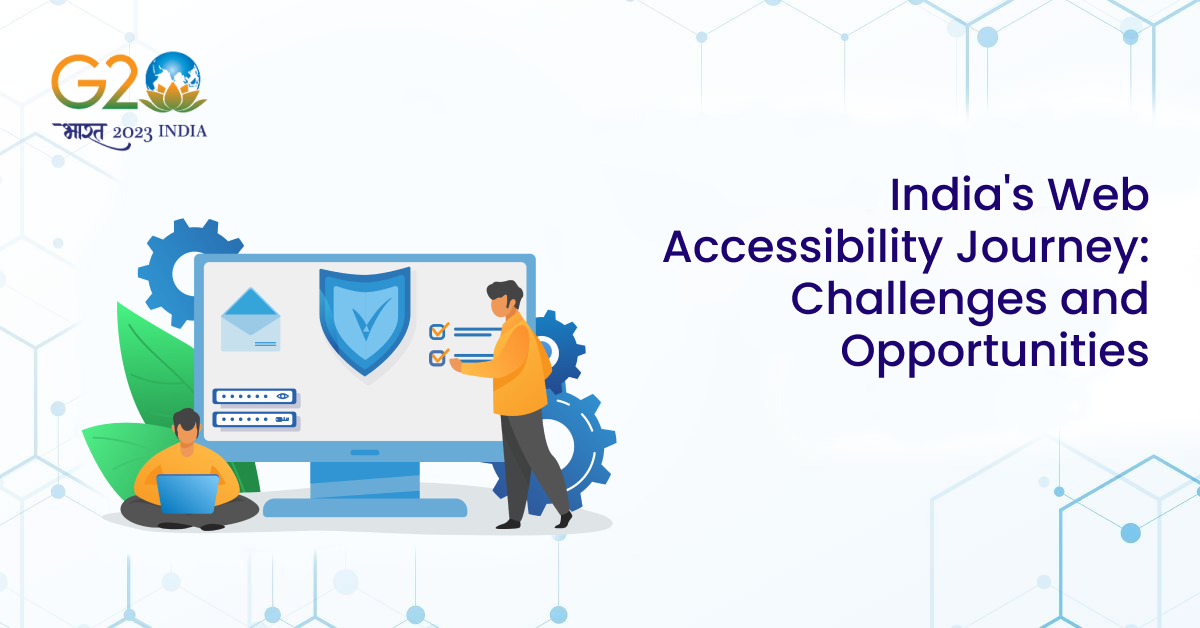 In today's digital age, access to information and services on the Internet is considered a fundamental right. However, for millions of individuals with disabilities in India, this right remains elusive due to web accessibility challenges. While significant strides have been made, there is still much work to be done to ensure that digital content and services are accessible to all. In this blog, we will explore the current state of web accessibility in India, the existing laws and policies, and the path forward to a more inclusive digital landscape.
The Current Scenario
Despite commendable efforts by government agencies, businesses, and disability advocates, web accessibility in India continues to be a major challenge. Recent reports reveal a stark reality: the majority of Indian websites, including those of government agencies and e-commerce platforms, do not meet international accessibility standards. A Centre for Internet and Society (CIS) report revealed that a mere 2% of Indian e-commerce websites meet the WCAG 2.1 Level AA standards.
These statistics shed light on the urgent need for improvement in web accessibility across various sectors.
Accessibility Laws in India
India has a framework of laws and policies aimed at ensuring web accessibility and equal access to digital information and services for people with disabilities. Some key laws and policies include:
Rights of Persons with Disabilities Act, 2016: This act mandates that all information and communication technology (ICT) products and services be made accessible to persons with disabilities.
Guidelines for Indian Government Websites: The Ministry of Electronics and Information Technology (MeitY) has issued guidelines that require government websites to adhere to the WCAG 2.1 Level AA standards.
Draft National Policy on Universal Electronic Accessibility: Developed by the Ministry of Social Justice and Empowerment, this policy provides guidelines for ensuring electronic information and communication technologies' accessibility to all, including persons with disabilities.
Guidelines for Indian Railways Websites: The Indian Railways has issued guidelines that require its websites to meet the WCAG 2.0 Level AA standards.
Rights of Persons with Disabilities Rules, 2017: These rules provide for the implementation of the Rights of Persons with Disabilities Act, 2016, requiring that all electronic and information technology be made accessible to persons with disabilities.
These laws and policies are essential for promoting digital inclusion and ensuring compliance with accessibility standards by businesses, organizations, and government agencies.
The Way Forward
Improving web accessibility in India is an ongoing journey that requires concerted efforts from various stakeholders. Here are some ways that can be implemented to move forward:
Develop and Enforce Web Accessibility Regulations: The government can create and enforce regulations and guidelines for web accessibility to ensure websites and digital content is designed with accessibility in mind.
Provide Training and Resources: Government and private organizations can offer training and resources to website owners, developers, and content creators to help them design and create accessible digital content.
Promote Awareness: Public awareness campaigns, training programs, and outreach efforts can raise awareness about web accessibility and its importance among stakeholders. Initiatives like the Accessible India Campaign are paving the way but more grassroots efforts are required. 
Encourage Accessibility in Public Services: Government websites and digital services should meet accessibility standards to ensure that public services are accessible to people with disabilities.
Collaborate with Stakeholders: Collaboration with disability rights organizations, industry associations, and technology companies can bring together expertise, resources, and best practices to promote greater adoption of accessibility standards.
Conclusion
Web accessibility is not just a legal and ethical responsibility but also a necessary step toward promoting greater inclusion and participation for people with disabilities in Indian society. While challenges persist, the passion and commitment demonstrated in various initiatives are promising signs of progress.
By prioritizing accessibility, India can pave the way for a more inclusive and welcoming digital landscape, where everyone, regardless of their abilities, can access the vast world of information and opportunities available on the internet.
The journey to web accessibility in India may be ongoing, but it's a journey worth taking to ensure that no one is left behind in the digital age. At Pivotal Accessibility, we believe that accessibility should be a right for everyone and we are dedicated to our mission to make every corner of the digital world more accessible. If you have any accessibility concerns, feel free to contact us and our certified accessibility experts. Together, we can bridge the accessibility gap and create a more inclusive India for all.