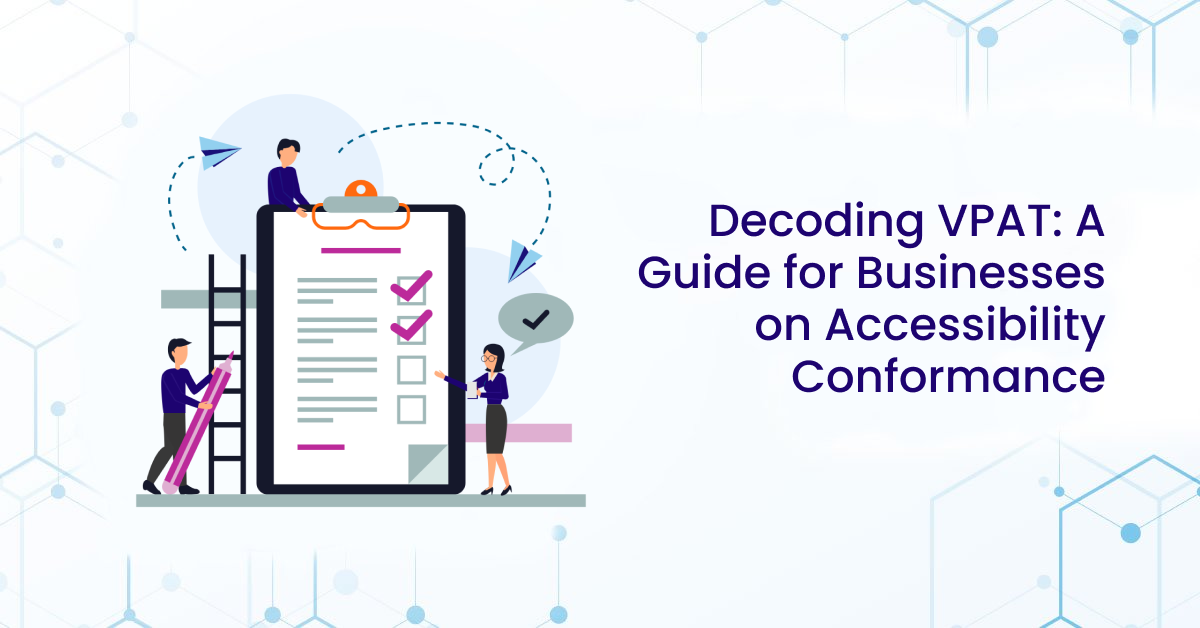 Often organizations find themselves at a crossroads when it comes to creating a VPAT for their digital products. The burning question that lingers is, should they invest the time and effort into creating it? In this blog, we explore the core of this dilemma, shedding light on what a VPAT is and why it plays a critical role in enhancing business prospects.
What is a VPAT?
Let's start with the basics. A VPAT(Voluntary Product Accessibility Template) is a documentation that assesses the conformance of a product in accordance with accessibility standards and guidelines. The VPAT serves as a meticulous record of how your product aligns with the latest standards for IT accessibility like Section 508, WCAG 2.1, etc. Authored by the vendor, it carefully dissects each criterion, offering insights into the product's accessibility on various fronts.
This comprehensive report goes beyond mere surface-level issues and dives into the accessibility aspects of a wide spectrum of Information and Communication Technology (ICT) products. Its scope ranges from applications and software to websites, electronic products, and documentation.
VPAT Editions and Standards
Hosting this pivotal documentation is the Information Technology Industry Council (ITI), offering VPAT in four distinct editions tailored to different markets and accessibility standards:
VPAT 2.4 Rev EU: Geared towards the European Union's accessibility requirements for ICT products and services.
VPAT 2.4 Rev 508: Tailored for the U.S. Federal accessibility standard.
VPAT 2.4 Rev WCAG: Aligned with the Web Content Accessibility Guidelines (WCAG) 2.0 & 2.1.
VPAT 2.4 Rev INT: An integration of the above three standards.
Ensuring your VPAT is in sync with the latest version, VPAT 2.4, and making sure it applies to your needs, is the key to staying ahead of the accessibility curve. This also sets your product apart from other businesses and gives you a competitive edge.
The VPAT Dilemma
For companies dealing with federal agencies, crafting a VPAT is not just a choice but a requirement. In the US, Section 508 of the Rehabilitation Act mandates federal agencies to ensure ICT accessibility for people with disabilities. But what about non-governmental organizations? Is a VPAT a worthy investment for them too?
The answer to this question is a big "yes". While it might be voluntary, creating a VPAT can be a strategic decision that places your product on the radar of federal procurements. Without it, businesses risk their product blending in with the masses. A VPAT not only demonstrates an organization's commitment to accessibility but also opens the gateway to increased market opportunities and potential revenue streams.
Some companies shy away from VPAT creation, fearing that it could highlight their product's flaws. However, VPAT isn't a spotlight on imperfections; it's a comprehensive view of the product's overall accessibility conformance. It encapsulates both successes and challenges, providing potential buyers with a well-rounded assessment.
Unlocking The Benefits of a VPAT
Creating a VPAT isn't just a documentation exercise; it's also a strategic tool that can fuel growth for organizations. Given below are some of the benefits of creating a VPAT for your business:
Sales and Revenue Boost: A VPAT paves the way for increased sales and revenue, positioning your product as a reliable and accessible choice.
Informed Decision-Making: Buyers benefit from VPAT as it gives them an understanding of a product's accessibility conformance, streamlining the procurement process.
Easy Comparison: With VPAT, buyers can compare products' accessibility, ensuring they align with organizational requirements. Having a VPAT ensures that your product will be distinguished from competitors.
Product Enhancement: VPAT serves as a roadmap for identifying accessibility gaps, and driving your team to create a more inclusive product.
In Conclusion, The Choice is Clear
Crafting a VPAT is not merely an option but a strategic imperative for businesses. Whether mandated by government regulations or voluntarily pursued, a VPAT not only showcases your commitment to accessibility but also unlocks doors to increased sales, informed decision-making, and a host of other advantages. Businesses should not shy away from VPAT but rather embrace it to enhance their business prospects and contribute to a more inclusive digital environment.
Where to Start?
While crafting a VPAT can be accomplished in-house, outsourcing to experts guarantees precision and impartiality. Ensure your VPAT is accessible by offering multiple formats like PDF, Word, and HTML. At Pivotal Accessibility, we have certified accessibility experts who are well-versed in creating VPAT for businesses that boost accessibility and credibility. Get in touch with us to embark on an accessibility journey that sets your product apart!