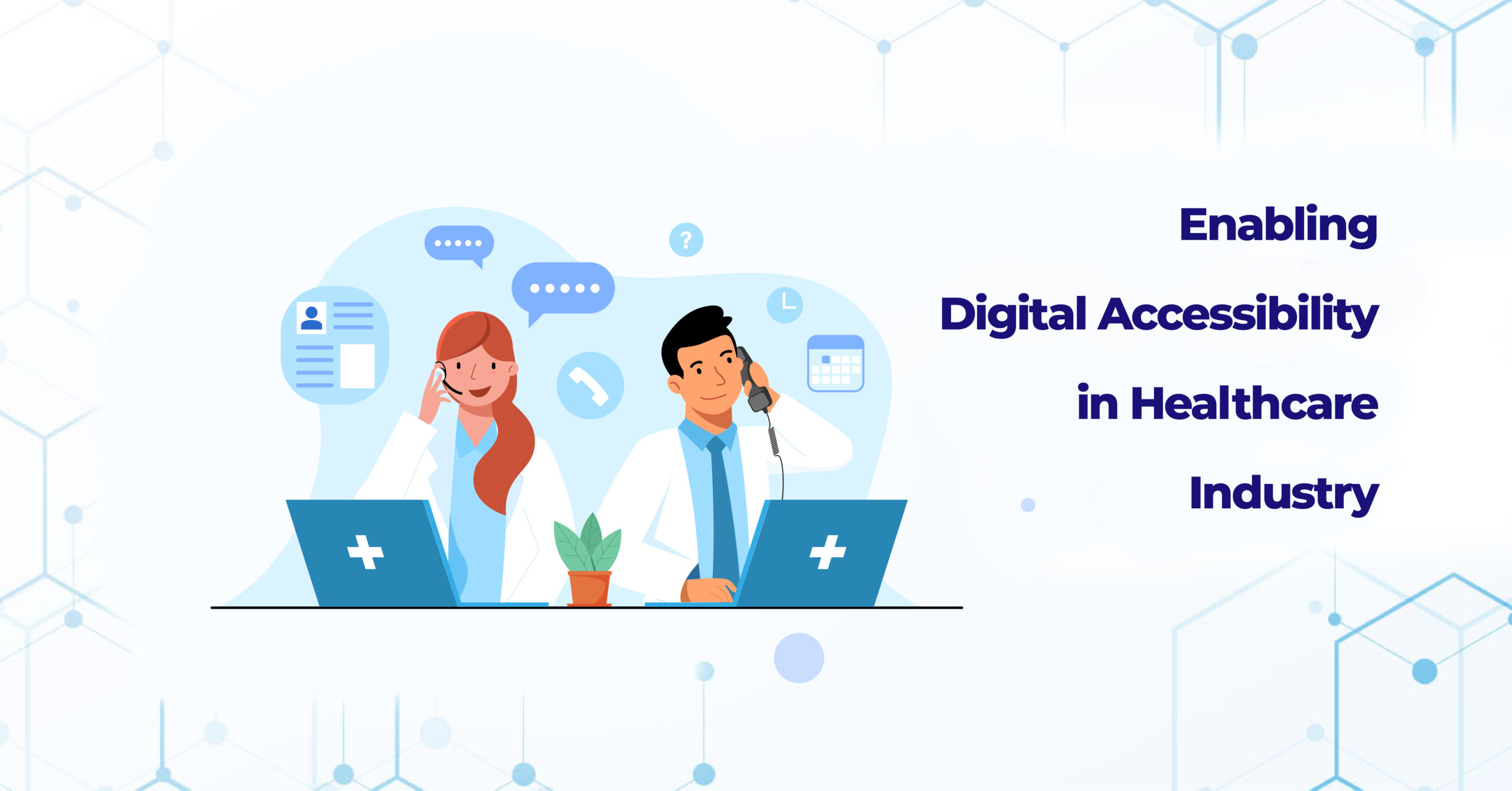 We all need a clean bill of health to live our lives comfortably and that generates the need to enable decent healthcare facilities around us. The world is constantly improvising on remediating the physical barriers besides attitudinal and financial limitations by considering that accessibility needs to be an integral part of the organizational structure like wider doorways for wheelchairs, accessible lavatories, accessible parking spaces, signage with braille, etc.
Access to healthcare is a basic human fundamental. But the challenge lies in capacitating the same in digital space, and it is where we come to play.
Digital portals must be in conformance with current WCAG guidelines. An inaccessible website or app restricts a disabled user from using commonly available healthcare facilities online, like searching for practitioners, booking consultations, and scheduling appointments. Enabling accessibility on a healthcare website and app is of paramount importance. Beyond a right, it's the law.
The Americans with Disabilities Act (ADA) and Section 504 of the Rehabilitation Act require that healthcare providers provide individuals with disabilities full and equal access to their health care services and facilities. Title II of the ADA applies to public hospitals, clinics, and healthcare services operated by state and local governments, and Title III of the ADA applies to privately-owned and operated hospitals, clinics, and healthcare providers.
With the digitization in the healthcare industry, it is now possible to record & track all the possible healthcare parametric data. One can now browse through all the content mentioned on the website of the hospital, clinic, or any health-related service before choosing to avail. Organizations are working on delivering facilities using the websites and the applications; ecommerce in healthcare, for instance, is being majorly used by the people who prefer the services to be received on request.
Healthcare Associated Accessibility Barriers:
Amid our heroic battle with the pandemic, the dependency on healthcare websites has increased by manifolds. It has also amplified the questions surrounding digital accessibility and equality since the lockdown disabled us all in one way or another. It doesn't always limit to blindness, hearing and speech impairments, motor disabilities, and learning or cognitive disabilities. It often includes people with temporary disabilities, such as a broken limb or cataract surgery. Hence, there is more to this than what meets our eye; a population at large that is being denied equal access to healthcare.
It is paramount to provide quality health care to the elderly, the individuals who lack physical capabilities or have visual/ hearing impairments as they are majorly dependent on the current digital services offered by hospitals and pharmacies.
The skyrocketing usage of online platforms for medical services such as ambulance, doctor consulting, pharmacy, ambulance, etc. during the lockdown, had to deal with some issues overshadowed earlier. Some of the existing systems which were not accessible, generated a negative user experience causing a pivotal barrier in times of crisis. Several individuals comprising mainly of groups with visual or hearing impairment were reportedly abstained from receiving important medical services.
The role of accessibility in healthcare is not limited to hospitals or pharmacies but also encompasses wellness products, gyms, yoga, consulting, fitness applications, pathology tests, and veterinary services, among others.
According to SensorTower, Medical apps surged 53% in usage in Q2 2021 compared to Q2 2019. This figurative study indicates the surge in usage of healthcare web applications since the Coronavirus pandemic hit.
Our Role:
It is quintessential for organizations to align healthcare systems with digital accessibility to easily make the user understand the services & features and avoid potential lawsuits.
Integration in compliance with accessibility guidelines ensures seamless navigation throughout the website and applications supporting major assistive technologies.
Our team at Pivotal Accessibility is engaged in providing accessible experience with Digital applications and websites; our detailed audit enables us to track and patch all the Accessibility parameters complying latest WCAG Guidelines and ADA, ensuring a better experience for an essential system.