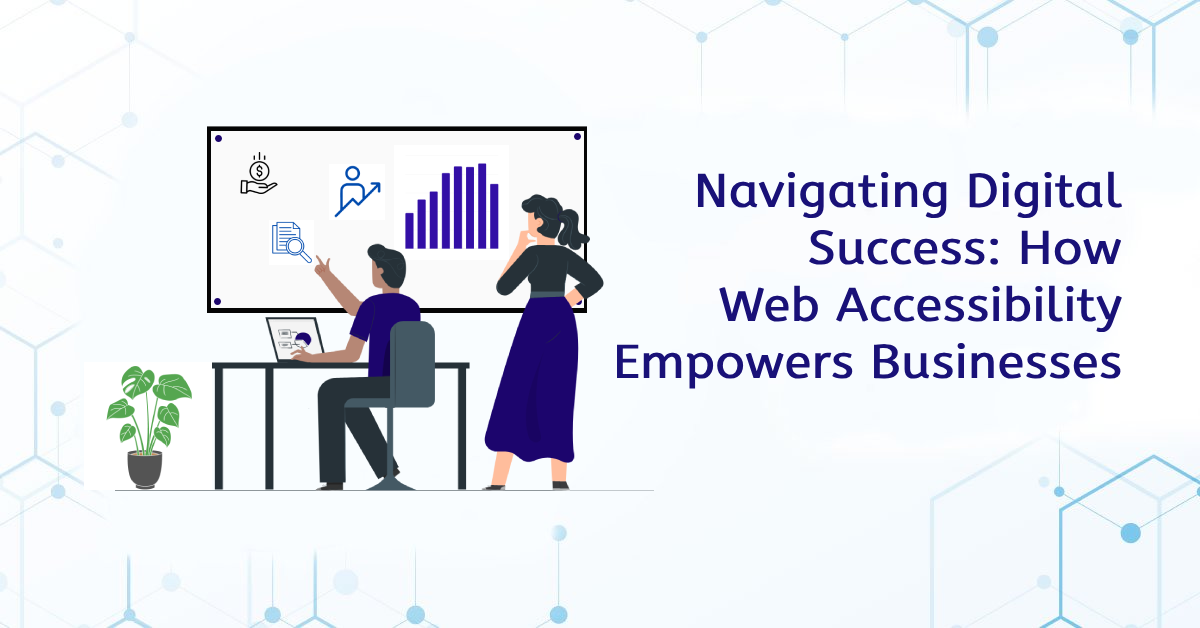 We are living in an era where digital technology is all pervasive. From shopping and communicating to obtaining information services, the internet, and other digital technologies play an essential role in our everyday lives. As we immerse ourselves in this virtual world, it is necessary to ensure that everyone can use them with ease.
Apart from making the internet more inclusive, web accessibility allows businesses to cater to people with disabilities and provide services to a larger population. It also creates a better user experience and mitigates the chances of legal action and lawsuits. But, before we get to how web accessibility can be a catalyst for business growth, let's start with understanding its basics.
What is Web Accessibility?
Web accessibility means a website or application's capacity to ensure usability for individuals with disabilities. It is similar to how physical environments are tailored with wheelchair ramps and Braille signage to facilitate entry and navigation. In digital spaces keyboard-only navigation, screen reader support, correct color contrast, etc. empowers users with disabilities to interact with online content seamlessly.
W3C, which is the main international standards organization for World Wide Web has consolidated all the criteria required for web accessibility in a single framework called Web Content Accessibility Guidelines (WCAG). The first guideline was introduced in May 1999 and has since gone through several revisions. At present, businesses must conform to the WCAG 2.1 (AA) version to ensure accessibility compliance.
The Legal Case for Web Accessibility
The principal rationale behind implementing the accessibility guidelines is to make the internet more accessible to users with disabilities. But, beyond moral grounds, it is also necessary for businesses as compliance with the standard is required by law in several nations:
USA: The Americans with Disabilities Act (ADA) & Section 508 of the Rehabilitation Act (1973) governs web accessibility in the US. According to a 2022 analysis, there were 143% more businesses receiving multiple lawsuits than the previous year, and a 200% increase is expected in 2023.
EU: Private sector businesses in the EU must get ready for the European Accessibility Act (EAA), which will go into effect in July 2025. According to the law, consequences for noncompliance must be applied in a fashion that is "effective, proportionate, and dissuasive."
Canada: The AODA, a law in Ontario since 2005, requires organizations to meet accessibility standards for people with disabilities. The aim is to achieve full accessibility in the province by 2025. It will impact all sectors including government, businesses, and non-profits.
The Commercial Benefits of Making Digital Assets Accessible
Aside from avoiding legal ramifications, companies also stand to gain a lot by making their websites more accessible. A prime example of this is the e-commerce giant Amazon. Utilizing accessibility features like high contrast mode, screen reader compatibility, etc. has helped them create a user-friendly experience for people with disability. This has allowed Amazon to reach a wider base of potential users and improve revenue. Emerging and established businesses can also leverage web accessibility to reap the following potential benefits:
Increased visibility on search engines: A website adhering to accessibility standards receives favorable search engine placement and increased SEO scores. As there is an overlap of elements between both like ALT texts, Metadata, Accessible design, etc., investing in accessibility assists companies in appearing higher in Google's search ranking and drawing more traffic.
Increased Versatility: Web Accessibility standards make the content reliably interpreted by various users. It also gives them the freedom to choose the technology (phones, tablets, laptops, etc.) they want to use to interact with web content, making it more robust and user-centric.
Increased Market Reach: 1 in every 4 Americans have some sort of disability. Making an accessible website would allow businesses to add value to their life while also catering to a relatively untapped market with considerable purchasing power.
Improved revenue: By implementing accessibility principles, websites can guarantee a considerable increase in visits and engagement due to better user experience. An increase in market reach and the ability to convert website visits into leads will in turn help generate higher revenues.
Improved Brand Image: Equally accessible web content shows that a company does not discriminate against people with impairments, which enhances brand perception. Examples such as BBC's Coverage of Ticketmaster only consolidate this point.
The Bottom Line
In this digital age, ensuring web accessibility isn't just a moral imperative, it's a strategic advantage. By adhering to web accessibility guidelines, businesses create an inclusive online environment where everyone can engage seamlessly. We understand that creating digital assets complying with all the accessibility success criteria needed for compliance can be a daunting task.

Here at Pivotal Accessibility, we stand ready to help businesses get started on their accessibility journey. With a thorough understanding of accessibility guidelines like WCAG, we're dedicated to ensuring your digital ecosystem is not just accessible but thrives inclusively. Our team of IAAP and DHS-certified engineers and testers possess the expertise to make your website, web apps, and mobile apps compliant with ADA, Section 508, AODA, etc. We also provide VPAT reports that show your commitment to the cause of an inclusive digital world. We look forward to being your ally in your quest for a more accessible internet.