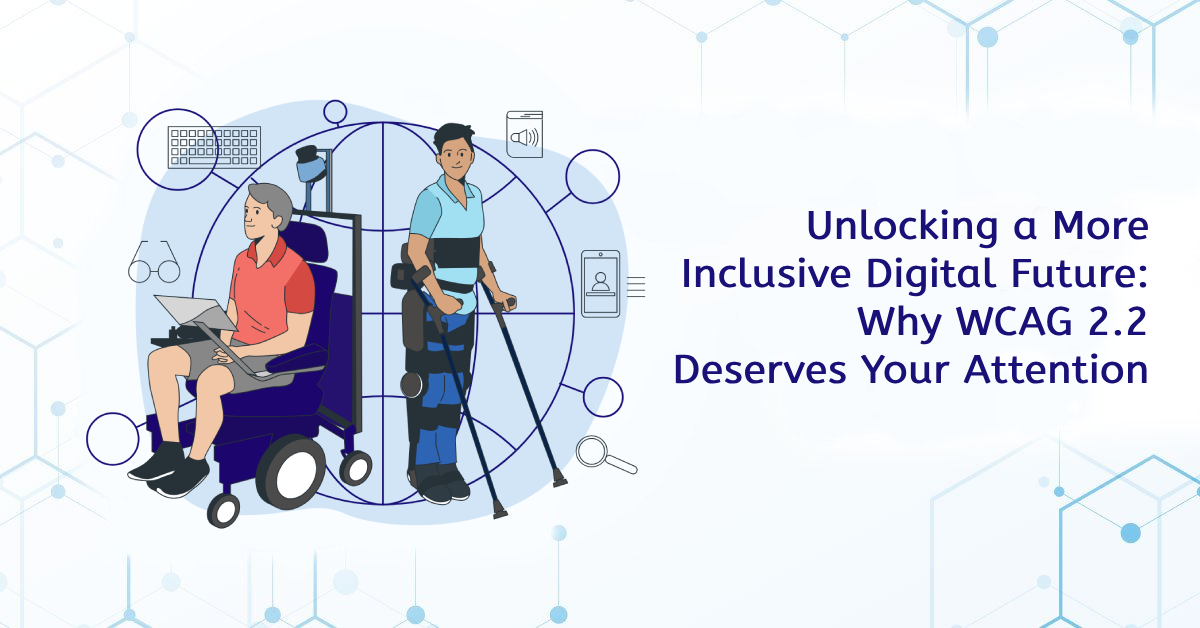 The digital landscape is evolving, and so are the rules that govern its accessibility. The final version of WCAG 2.2 is undergoing discussions and the launch of the new guidelines is just around the corner. As the launch of these pivotal guidelines draws near, knowing the changes made through the new framework is important to stay ahead of the curve. In this article, we will be discussing the new success criteria introduced in WCAG 2.2 and how they are going to affect different users.
Understanding WCAG 2.2 and Its Purpose:
World Wide Web Consortium (W3C) has been continuously updating and improving the Web Content Accessibility Guidelines (WCAG). WCAG 2.2 is built upon its predecessor WCAG 2.1 which was released in June 2018. The new version introduces 9 new success criteria. These success criteria are aimed to address specific challenges faced by user groups. The main aim of the WCAG 2.2 is to make the internet easily accessible for users with learning or cognitive disabilities, low vision, and motor disabilities. If these guidelines are followed by developers and businesses, the digital landscape can accommodate the needs of all users, regardless of their dis/abilities.
New Additions and Enhancements in WCAG 2.2:
Let's try to understand the new key additions that WCAG 2.2 introduces to the existing guidelines. The new framework aims to include more inclusive criteria which are suggested by different disability advocacy groups. These requirements emphasize improving user experience and ensuring that web material is accessible to all. All the new success criteria being suggested in WCAG 2.2 are listed below:
Focus Appearance (Minimum): This standard relates to the keyboard focus indication, which is a visual cue that lets users know where they are on a page.
Focus Appearance (Enhanced): Building on the prior criterion, this provides additional specifications designed to ensure heightened visibility of the keyboard focus indicator.
Page Break Navigation: Users with visual impairments who depend on electronic media will gain from this new recommendation. The requirement states that the fixed reference points found in a physical publication, such as page numbers, must be present in the publication's electronic version as well.
Dragging Movements: This criterion is intended to increase accessibility for users who use assistive technology, such as an eye-gaze system, or who are physically unable to perform an exact on-screen dragging action.
Target Size (Minimum): Targets are the region of the display that will accept a pointer action, such as clicking with a mouse or touching a touchscreen. The recommendation of this criterion will help the users to easily activate a target without accidentally activating an adjacent target.
Consistent Help: This recommends various approaches that make getting help on a web page easier for all users. This recommends that help mechanisms be placed in the same order relative to other page content as it will help users with cognitive impairments to locate them easily.
Visible Controls: This success criterion recommends that user controls are visible throughout the process so that users with cognitive or vision impairment can easily find them to progress through the process.
Accessible Authentication: According to this guideline, if a process for establishing authentication relies on a cognitive function test, at least one additional authentication option must be accessible that does not.
Redundant Entry: The W3C specifies that, in a multi-step process, the user shouldn't have to recall or re-enter previously supplied information, which would be difficult for a user with a cognitive or memory disability.
Preparing for WCAG 2.2 Compliance and Leveraging Solutions
To prepare for WCAG 2.2 compliance, organizations should undertake a comprehensive accessibility audit of their digital content. Collaborating with accessibility experts and leveraging automated tools can help identify and address accessibility barriers. By taking a proactive approach, businesses can future-proof their digital efforts and create a user-friendly experience.
Navigating the complexities of WCAG compliance can be challenging for many organizations. To address these challenges we at Pivotal Accessibility offer end-to-end support, combining automated and expert manual testing approaches to uncover all accessibility issues. Our CPACC-Certified Testers provide a detailed VPAT report for all documentation purposes. We take a comprehensive approach that empowers businesses to deliver fully-inclusive digital experiences that comply with WCAG, ADA, AODA, and Section 508.